Failure, occurence, success
I was prepared to accept failure on my shoelessness bill. But I wasn't expecting it to crash quite so hard. It got the fewest yes votes of all the initiatives on the ballot: 22%. It also got a significant number of no-opinion votes, and I think about 65 to 70% no votes. I was really surprised. I never thought such a hippie place as Grinnell would be so unprogressive on an issue like barefooting. Yesterday, I did an interview with a guy from KDIC, the college's radio station, and I think I pinpointed the problem: everyone here is probably only really progressive on the big, world issues, and doesn't really give a whole lot of thought to different viewpoints on small issues like barefooting. Yes, there are more important issues, but as long as you're voting, why not give barefooting a yes?
I applied to be a GOOP leader next year. A few days later, I got a letter back saying that they had so many very qualified and experienced applicants that they had to make some very difficult cuts and we'll let you know if anything opens. I told them to please, please let me know. Nothing has opened. This summer, I'll apply to some sort of camp. Maybe Manito-wish.
I ordered an album in the mail and got it. It's really good: The Sunset Tree. It's by The Mountain Goats, who came here before winter break, and I saw them in concert then. I like it a bunch, especially "Dilaudid".
I made that snow sculpture. Here is a picture.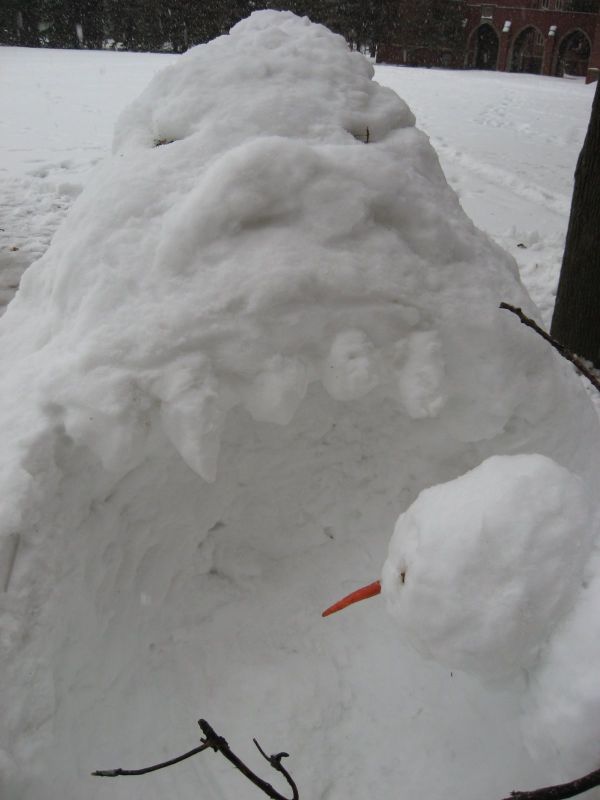 Here is a video. It shows me making it.
File under: college, snow sculptures, barefooting
---