Every once in a while I draw a cartoon in my journal. I havn't been doing it as often as I used to—there are only two in my whole current 600-page journal, and I'm 520 pages into it. But here's one I did a few days ago. Click on it to see it full-size.
I'll explain a little bit first. These cartoons are based on a karacter I came up with when I was in, oh, fourth grade, called Chicklet. Probably a lot of his appeal to me then was that he's easy to draw. Over time, more karacters hav joined the strip, which is good, because it's tuf to carry out a strip with just one karacter. Each one represents someone I know. Aaron and Keith bothe hav one based on cartoons we used to draw in classes when we wer supposed to be doing other things that wer too boring. Keith's is a chameleon, a spin-off from his strip The Chameleon Brothers. Aaron's is an orb with eyes. The only one that makes an appearance in this strip, tho, is a snake that's supposed to represent Micah, for reasons I'v forgotten by now. He drew cartoons, but none of them wer snakes—I think I may hav asked him once what kynd of cartoon he'd like me to use to represent him, and he picked a snake. If I fynd some more good cartoons, I myte scan those in and post them here. One of the volumes of my journal is still in Iowa, but I have the other three big ones (plus the small, old one) here in Ohio.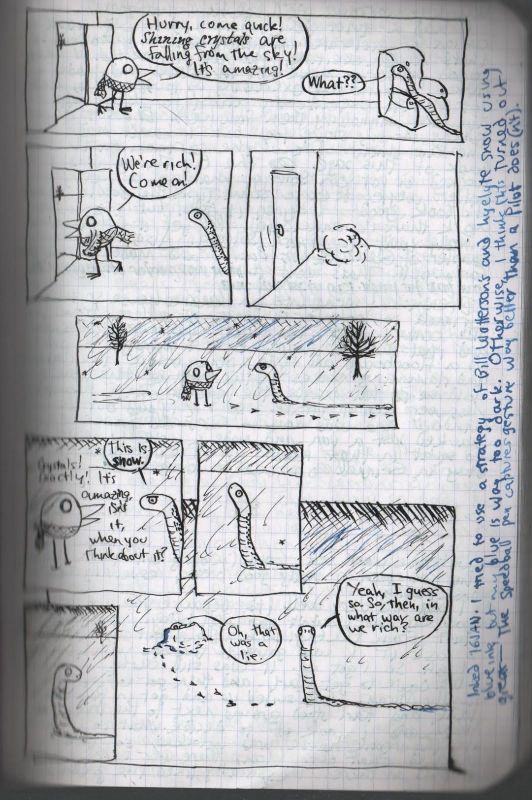 This has been an uneventful week. I'v been reading, and (while the snow was around) sledding, and werking on my font, and stuff. I'm going back to Iowa this weekend. I'll hav lots of fun stuff to tauk about this semester. The latest news is that the assistant manager of Bob's is stepping down, and I myte take his place—I havn't decided yet, since I don't know all that it entails. I'll also, assuming this program is still underway, be volunteering to teach English to immigrants in ?Cedar Rapids, most of them Somali. And of course I'll be going to Costa Rica. I'm definitely excited about the near future. And the future after that, actually. I'm all sorts of excited.
File under: cartoons
---